Presentation
Services
Background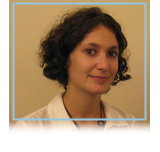 Rebecca Ganem is a member of the Order of Psychologists of Quebec since 2011. She works with adults in individual psychotherapy.
"Coming from a psychodynamic approach I conceive of therapy as a highly personalized and unique process where the goal of the therapy is discussed in our first meetings. The goal will be based upon the needs of each unique individual. Sometimes the problems of our lives in the present can help us discover issues from our past—my approach lies in recognizing these deeper issues and learning how to give sense to and gradually over time to integrate these issues. The experience of psychotherapy sometimes can be disturbing, because of this the quality of the therapeutic relationship is essential. My work, based on listening closely and respectfully to the individual, aims to create the conditions for the therapeutic dialogue to emerge—a dialogue that can lead to change in how we live and how we understand ourselves."
Services
Rebecca Ganem works with individuals who suffer from the results of traumatic life experiences, depression, anxiety, relationship issues, difficulties from major life transitions (such as loss of a loved one or becoming a parent), issues with self-esteem or identity, gender or sexual-identity, and difficulties linked to work or the experience of immigration.
Her practice is intended for people who want to develop greater understanding of themselves and to support them in their choices, or for people who need support working through a difficult period of their life.
Background
Rebecca Ganem graduated from EPP since 2007. In the course of her studies she did internships in an oncology unit working with adults suffering from cancer and at a medical and psychological clinic where she worked with children. At the latter she both worked in evaluating children and in the practice of psychotherapy.
She has completed an internship at the day-hospital of the Jewish General Hospital of Montreal where she further developed her abilities in evaluating and treating adults with severe mental illnesses through individual and group therapy. During this internship she also participated in clinical activities of the cultural psychiatric service of the hospital.
Presently Rebecca is in the process of finishing her doctorate in psychology at UQAM that is scheduled to be completed in December 2016. Her research interests include the complex changes of identity for immigrant individuals and their families and the impact of sibling relationships on identity construction.