Presentation
Services
Background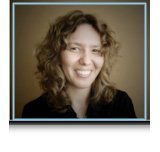 Mrs. German holds a Masters in Counselling Psychology from McGill University. She is a member of the Ordre des Psychologues du Québec (OPQ).
She uses a cognitive behavioral as well as an existential approach to psychotherapy. She helps the client examine the events that are encountered in life from different angles, helps him/her modify inefficacious behaviors, and find better ways to resolve emotional obstacles by employing successful solutions.
Cognitive behavioral therapy is a form of psychotherapy that emphasizes the important role of thinking in how we feel and what we do; it is a process through which we learn how our thoughts influence our feelings and behaviors. Existential psychotherapy is an optimistic approach which embraces human potential. It is based on developing the client's insight, or self-understanding, and focuses on problems of living such as choice, meaning, and responsibility. This therapeutic approach emphasizes "free will," the ability to make choices through which an individual can become the person that he or she wants to be. Existential therapy attempts to restore meaning to life so that the client is inspired to have the courage to make choices that are both rewarding and socially constructive.
"People are not disturbed by things, but by the view which they take of them." Epictetus
"The power of thought is the one thing of which we have complete control." Sartre
"I know but one freedom and that is the freedom of the mind." St.Exupery
Email: german.ioana@ccpeweb.ca

Services
Her focus is to help clients make a difference in their lives. She offers psychotherapy services for adults and adolescents:
Depression
Anxiety
self-esteem issues
relationships/communication
separation/abandonement
marital counselling
stress related issues
career/work issues
loss/mourning
She specializes in counselling relationship issues, working with individuals and/or couples to help enhance and improve their relationship skills, hoping to inspire, guide, and teach each family member to make connections and a positive difference in their life.
She also works with parents seeking counselling for their child or adolescent, having expertise with adolescents and children and working together with families to address specific behavioral and emotional difficulties.
Email: german.ioana@ccpeweb.ca

Background
Ioana German has been a member of the CCPE team since 2006.
She holds a bachelor's degree B.A. Specialization in Psychology from Concordia University (Montreal) and a Master's degree M.A. in Counselling Psychology from McGill University (Montreal).
She has experience in psychotherapy counselling since 2003. She has been working with adults as well as adolescents. This experience led her to develop an understanding and compassionate approach to therapy designed to encourage self-growth and promote a better comprehension of self, others and the environment.
Email: german.ioana@ccpeweb.ca