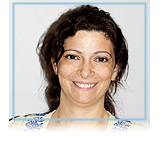 Mrs. Daghfal works at CCPE as a psychologist since 2018. She previously realized an internship at CCPE in the process to validate her diploma to become a member of the Ordre des Psychologues du Québec (OPQ). She holds a BA in psychology from McGill as well as a D.E.S.S. (Diplôme d'Études Supérieures Spécialisées) in Clinical psychology and pathology. Her concentration is directed towards children and teenagers who struggle academically, behaviorally and affectively.
She offers services in assessment, psychotherapy, and parental guidance; moreover, she has over 15 years of experience in schools, private sectors, and in community groups.
In her previous experience in school environments and community groups, Mrs. Daghfal has a large understanding of different learning disabilities, as well as adjusted various strategies to help the students in their academic tribulations.
In her private practice, she uses a cognitive behavioral approach associated with psychodynamic views to psychotherapy. She helps the client investigate the events encountered in life from various angles, helps modify unproductive behaviors, and find improved ways to settle emotional difficulties.
Mrs. Daghfal provides parents a better comprehension of their children and gives them the needed and appropriate support. Cognitive behavioral therapy is a form of psychotherapy that emphasizes the important role of thinking in our everyday behavior and perceptions.
Mrs. Daghfal offers her services in English, French and Arabic.