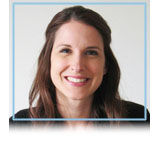 Claudia Blanchard-Dallaire holds a doctorate in psychology, research and intervention profile (Ph.D.), granted by the Université du Québec à Montréal. Dr. Blanchard-Dallaire primarily provides assessment and intervention services to children, adolescents and their families (parental coaching). She demonstrates a constant concern to adapt to the specific needs of her clients and advocates a collaborative approach with the parents and the different living environments of the child.
She receives young people with various problems, including anxiety, depression, low self-esteem, emotional management difficulties, relationship difficulties or social skills, as well as behavioral problems.
Dr. Blanchard-Dallaire also practice psychotherapy with young adults with issues related to anxiety, personal difficulties or adjustment, or seeking support to overcome difficult life circumstances.
Through a variety of clinical and research experiences, Dr. Blanchard-Dallaire has developed expertise with trauma victims or people who experienced adverse life experiences.
Dr. Blanchard-Dallaire works according to the cognitive-behavioral approach, which allows her to guide her clients in the acquisition of concrete strategies adapted to their needs.
Services can be offered in French or in English.