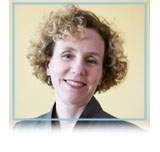 Christine Smilga has been a member of the Ordre des psychologues du Québec for over thirty years and has a doctorate in psychology (Ph.D.) from Université de Montréal. She joined the CCPE team in 2013, after having worked for over twenty years in the Employee Assistance Program (EAP) industry as a consultant and a manager. She also provides psychological support services in a university setting.
Christine Smilga offers psychological services to adults in individual therapy. Her interventions are adapted to individuals' needs and based on cognitive-behavioural, acceptance and commitment therapy (ACT), humanistic and brief therapy approaches, mobilizing resources and strengths of the client. She is interested in the integration of mindfulness and clinical hypnosis in the therapy and change process.
Her service offer is based on her clinical and management experiences:
Clinical services for diverse psychological health issues, such as anxiety, depression, burnout, relationship difficulties, bereavement, self-esteem;
Support for managers and workers, to help them cope with workplace challenges while remaining healthy;
Support for individuals dealing with transitions and pursuing personal achievement projects, with a particular interest for self-development through adventure and nature.
Email : repartition-adulte@ccpeweb.ca
After completing her doctorate in 1987 and working for some years in private practice, Christine Smilga got involved in the EAP field, providing internal services in hospital settings.  There, she developed her interest and her expertise in psychological health at work, by combining clinical and organisational approaches of psychology. She helped thousands of workers and dozens of managers with coping with change, problem solving and short-term recovery processes.
From 2001 to 2012, Christine Smilga worked for PROTACT (now Homewood Health), a leading EAP firm, filling successively the positions of senior consultant, clinical director, and director of professional services for Eastern Canada. She supervised and supported clinical managers throughout the country, developed and managed a network of more than a thousand counsellors from five provinces. She also restructured and managed the national telephonic crisis services, assuring 24/7 professional support to employees in need of immediate assistance, and oversaw the organizational crisis management services for the province of Quebec. Throughout major organisational changes and a fast growth of the organisation, Christine Smilga played a key role in the professional services team's mobilization, policy and procedures reshaping, and service quality management.
Opting in 2012 for the adventure of a career transition, Christine Smilga decided to reduce her professional activities for a year in order to explore new avenues of professional commitment, and take the time to fulfill a mountaineering dream. This transition led to the resumption of her clinical practice and joining the CCPE team in 2013. Furthermore, she joined HEC Montreal's Student Services during the fall of 2013, where she provides psychological support services to young adults from multicultural backgrounds.