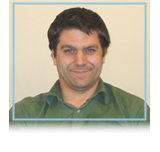 René Caissie has been a member of CCPE since 2005. He is the recipient of a bachelor's degree in psychology from the Université de Moncton (New Brunswick) and a Master's degree in psychology with thesis from the Université Laval (Québec). He has a psychology practice license in New-Brunswick.
Mr. Caissie is a CCPE specialist in personality assessment.
Background
In his professional career, René Caissie has intervened with an adult population presenting transitory problems in a context of crisis intervention. Furthermore, he has worked in a community setting (mental health clinic) helping an adult population suffering from chronic disorders (psychotic disorders, bipolar disorders, personality disorders).
In a CLSC context, he has also worked with an adult population suffering from transitory problems. Having worked as a psychologist in an acute psychiatric unit in a hospital setting, he has also acquired experience with severe mental illness in a psychiatric hospital.
Mr. René Caissie is also practicing in Moncton, New Brunswick.